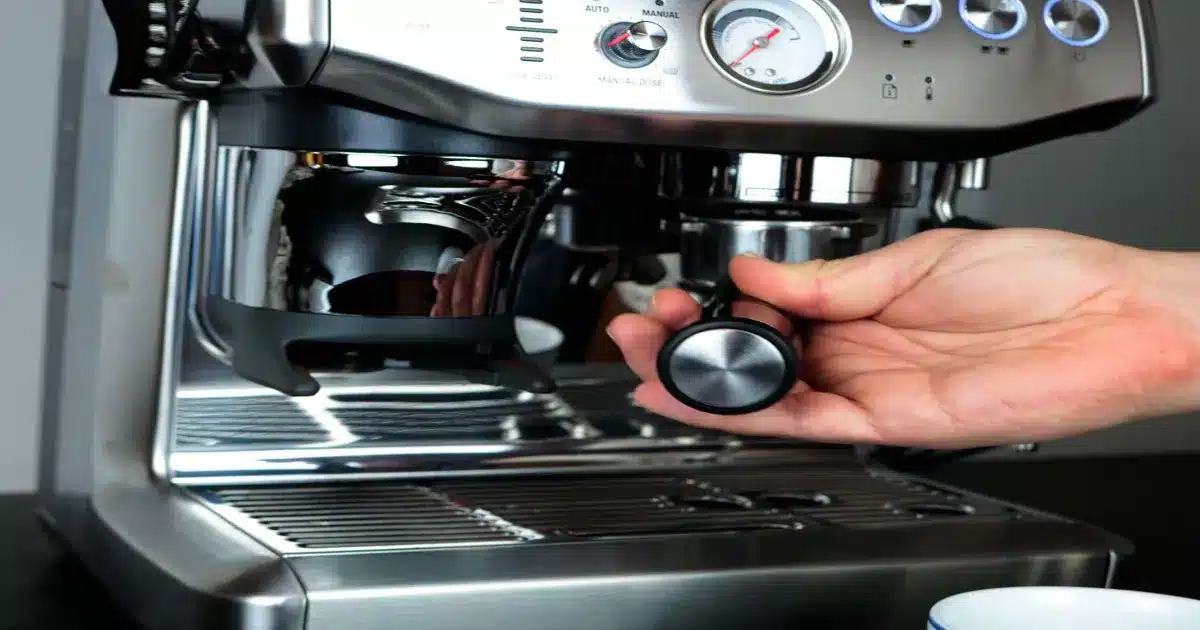 The 19th century, being the era of steam, it was unavoidable that it would eventually get incorporated into tasks even as simple as making coffee.
Over time, thanks to technological advancements, our coffee experience has elevated to a pro level without having to regularly rushing to cafes. Our love for a premium coffee experience has thus resulted in having café-standard gadgets in everyday household kitchens.
Out of the endless fancy devices available to choose from, steam espresso devices are quite the alluring alternative. This is because along with brewing the most premium cups, you get to enjoy a barista-like experience, making the whole task all the more enticing.
The best steam espresso machines are also equipped with steam nozzles or wands that are responsible for frothing up various milks. Hence, you get to enjoy a more versatile array of premium coffees fit for any professional coffee shop, and that too, right at home by yourself.
Best Steam Espresso Machine Reviews
Mr. Coffee Steam Espresso System
Mr. Coffee 4-Cup Steam Espresso System with Milk Frother
Please refer to user guide or user manual or user guide (provided below in PDF) before first use
Steam Heat forces hot steam through the filter for dark, rich espresso brew
Frothing Arm makes creamy froth to top off your cappuccinos and lattes
The Drip Catcher is a removable, washable drip tray to collect coffee drips and keep brew space neat and clean
With the capacity to brew up to 20 ounces or 4 servings of espresso, this model comes with a glass carafe to capture all the freshly made goodness at once!
The device is composed of stainless steel for durability you can trust. The glass carafe possesses a convenient spout which makes pouring a mess-free task, while the stay-cool handle enables safe and comfortable handling. Whether you want the perfect serving of espresso, latte, or cappuccino, etc., it is a superb choice indeed!
In order to provide you the most pro coffee experience as luxurious as coffeeshop lattes, cappuccinos, etc., it owns a built-in milk frother. Hence, you get to texture your desires caffeinated drinks with the creamiest milk foams for the ultimate buzzin' experience.
This steam espresso machine features a Steam Heat function that causes the heated steam to pass through the grounds in the filter. The steam creates a pump pressure of around 3 bars, thus ensuring a lusciously dark espresso every time.
Your coffee-making experience is always a neat task with minimum mess thanks to the removable drip tray that is effective while being convenient to clean up. It comes with a measuring scoop and tamper as well to facilitate easy loading of grounds into the portafilter.
Highlighted Features
4-cup capacity glass carafe
Steam Heat function that creates around 3 bars of pressure for extraction
Removable drip tray
Included tamper and scoop for measuring and setting coffee grounds
Calphalon Temp IQ Espresso Machine
Sale
Calphalon Espresso Machine with Coffee Grinder, Tamper, Milk Frothing Pitcher, and Steam Wand, Temp iQ 15 Bar Pump, Stainless Steel
Note: 1)Too coarse a grind, too little coffee, or insufficiently tamping the grounds before brewing can all lead to inadequate pressure for a proper brew. 2)It is important to note that the amount of espresso extracted will vary depending on the grind size and amount and reprogramming may be needed when the size and amount are adjusted.Please refer to user guide or user manual or user guide (provided below in PDF) before first use.Filter type:Reusable
15-Bar Italian pump delivers the right amount of pressure for maximum flavor extraction and produces a beautiful layer of crema for your Espresso
Freshly grind your beans to your preference With the integrated conical burr mill Grinder with 30 adjustable grind settings
Pre-programmed settings for single and double shots, and dial interface for selecting steam, or hot water
Includes single- and double-shot single wall filter Baskets
Composed of stainless steel, this super-automatic espresso machine is a dream gadget for any coffee freak for all the right reasons.
This bad boy is equipped with an integrated grinder with up to 30 grind settings, thus providing you the freshest and the most versatile experience every single time! The water reservoir has an immense capacity of 2.8 liters, thus making it an ideal solution for lazybones such as myself, or, even for small coffee shops.
The water tank's hinged lid makes it easy to refill it. This model adopts PID temperature regulation and Thermoblock heating technology that evenly heats up your coffee. Coffee grounds are allowed to bloom before the extraction process begins, thus delivering you divinely flavorful cups consistently.
Equipped with an Italian 15 bar pump, it ensures the maximum extraction of flavors with just the right amount of pressure. Hence, even when all else in life falls short, flavor and richness won't from your cups. Auto shot control mechanism uses just the right volume of water needed for single or dual shots of espresso.
A robust steam wand ensures the most magnificent milk foams, further elevating your coffeelicious experience. An extra-large portafilter also ensures uniformity in the extraction and dispersion of the grounds. While that happens, its cup warmer tray keeps your espresso cups warm while they wait to catch all the goodness!
Highlighted Features
Integrated grinder with 30 grind settings
2.8-liter capacity water reservoir
Coffee grounds are allowed to bloom before extraction
Warmer tray to keep cups warm
Auto shot control for automated water volume control in espresso shots
Breville Nespresso Creatista Single Serve (BNE600RCHUSC)
Breville Nespresso Creatista Single Serve Espresso Machine with Milk Auto Steam Wand, Champagne, one size (BNE600RCHUSC)
Note: 1)Too coarse a grind, too little coffee, or insufficiently tamping the grounds before brewing can all lead to inadequate pressure for a proper brew. 2)It is important to note that the amount of espresso extracted will vary depending on the grind size and amount and reprogramming may be needed when the size and amount are adjusted
Single serve coffee and espresso machine: The Nespresso Creatista offers freshly brewed coffee as well as delicious authentic espresso. The Creatista can turn into your personal latte maker with the attached frother, allowing you to create top quality latte art in your kitchen. Pour over ice to create your favorite iced coffee drinks.
Barista grade: Brew different single serve coffee and espresso beverage options at the touch of a button depending on your coffee needs – Ristretto (0.5 oz.), Rspresso (1.35 oz.), Lungo (5 oz.). The Creatista allows you to take a step further and create more complex coffee drinks such as flat whites, cappuccinos, and latte macchiatos. There are settings that allow you to adjust coffee volume, milk temperature and mixture with a fast 3 second heat up time.
Smart coffee and espresso maker: Brew a perfect single serve coffee or espresso cup time after time with an easy TFT LCD display that assists you on all preparation, setting and maintenance aspects thanks to a high resolution display.
Integrated milk frother: Automatic built-in milk frother with 8 texture levels and 11 different milk temperature settings (11 settings, 55-76°C / 133-169°F) helps you create your favorite single serve coffee and espresso beverages. Complimentary gift: Each machine includes a Nespresso Original capsule welcome kit with a range of capsules with unique aroma profiles.
This single-serve machine by Breville is what your caffeine dreams are made of to meet your individual coffee cravings.
It is composed of a non-metal finish of premium quality plastic that wins in both the durability and aesthetics department. A 1.5-liter water tank capacity eliminates the hassle of frequent refills, making your coffee indulgence a pleasant experience.
With a super-fast 3-second heat-up duration, you get to enjoy your cup at the single touch of a button. You get to make fancier coffee such as Ristretto, Lungo, etc., and more. This is all thanks to all the flexibility it offers in adjustment over milk and coffee volume, their temperature, etc., and more!
The device is super-fun and convenient to use via its TFT LCD. With 19 bars of pressure, it exerts a premium level of pressure on the grounds. You thus get to enjoy a magnificent espresso that never fails to hit the spot!
The built-in steam nozzle has the capacity to froth up milk in 11 versatile temperatures and offers 8 types of textures to choose from, entirely transforming your coffee game! A stainless frothing cup is included for convenience.
The device features an auto cleaning system as well and turns off on its own after 9 minutes of inactivity for safety and power-efficiency. So, if fancy coffees are your thing, this model is an impressive model to go for that allows you to play barista as well right in the comfort of your home.
Highlighted Features
ThermoJet heating element for super-fast 3-second heating
19 bars of pressure for impeccable flavor extraction
Milk frother offers 11 versatile temperatures and 8 types of textures
Super convenient TFT LCD control panel
Automatic cleaning and auto shutdown feature
All-In-One Barista Bundle Set By EspressoWorks
Sale
Espresso Machine & Cappuccino Maker with Milk Steamer- 7 pc All-In-One Barista Bundle Set w/Built-In Milk Frother (Inc: Coffee Bean Grinder, Milk Frothing Cup, Spoon/Tamper & 2 Cups), Silver
Includes: 15 Bar Pump Espresso & Cappuccino Maker, Electric Coffee Bean Grinder, Stainless Steel Portafilter with Single and Double Shot Filter Baskets, Milk frothing pitcher, Scoop/Tamper, 2 Ceramic Espresso Cups
ESPRESSO MACHINE and LATTE MAKER 15 BAR PUMP PRESSURE SYSTEM- Make great espresso at home, Americano at home, and Macchiato at home without going to the coffee shop!
A SINGLE SHOT AND A DOUBLE SHOT OF ESPRESSO – Includes a single and double shot stainless steel filter to chose your espresso shot size. Compatible with ESE Pods.
A VIEWABLE REMOVABLE WATER TANK (1.25L capacity) lets you view the water level conveniently from the front. The handle on the tank makes it easy to remove, clean, and refill the tank.
OVER 25,000 UNITS SOLD with an Outstanding Customer service team! Available 24/7 to provide personal assistance at any time!
There are some to whom coffee is just a necessity for that wake-up buzz to get them going. But for some of us, it is more, and making the perfect cup is somewhat of an art form.
That is why, for such coffee freaks who can't settle for less even when at home, this is a complete set that comes with everything you could ever need! The device comes with a coffee grinder, a scoop and tamper, filter baskets, a frothing cup, and even a pair of coffee cups!
It possesses a pump pressure of 15 bars that facilitate a super-effective extraction of your preferred coffee grounds to the max. Thanks to the improved thermoblock system of heating, you get a steaming cup of your favorite coffee or espresso with minimal waiting time!
This steam espresso machine possesses a built-in steamer that facilitates the creation of pro-grade milk foams for café-worthy cups of bliss. The device features an automatic turn-off facility as well, which shuts down the device after 25 minutes when not in use.
Capable of extracting either single or dual shots in one go, the model has a detachable water reservoir. Transparent with a capacity of 1.25 liters, it is effortless to wash, refill, and monitor, making your life more convenient.
Highlighted Features
Turns off automatically after 25 minutes
Superb heating system that provides coffee within a matter of seconds
Removable 1.25-liter transparent water reservoir
Comes with everything necessary to produce perfect espressos from scratch
Hamilton Beach Espresso Machine (40792)
This is yet another impressive model worth checking out that possesses an ample 15 bars of pressure for producing stellar espressos every time.
Whether you intend to use espresso pods or ground coffee, this device works with both to create the coffee you love. Equipped with a cup-warmer, your cup remains warm and cozy while coffee is extracted with love for providing you with the perfect temperature.
It is amazingly simple to use as the portafilter slides out easily for refills and all you have to do is lock it back in to get brewing. Coffee is extracted at just the ideal temperature and results in a café-standard cup every time with luscious crema. A detachable drip tray makes cleaning up an easier task and makes coffee-making a less-messier experience.
It is equipped with a steam wand that swivels, thus providing you with flexibility to handle it. This perfectly steams and froths up milk to the optimum degree of foaminess and texture, thus providing you an unforgettable cup of extravagance right at home without having to run to cafés!
Highlighted Features
Cup warmer to keep cups warm during brewing
Convenient and simple slide-and-lock portafilter for easy operation
Steam wand swivels for flexible usage
15 bar pressure for café-standard coffee consistently
Steam Espresso Machines Buying Guide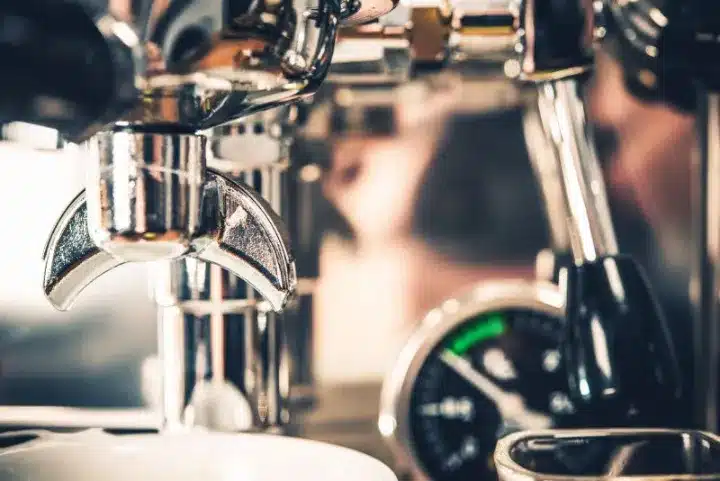 Heating System
In order to enjoy the perfectly extracted espresso every time, it is crucial that the coffee grounds are extracted at just the right temperature.
The ideal temperature for producing an ideal espresso is 195-205C, any higher may burn the coffee grounds and ruin the flavor. Lower temperature extraction will not release the full flavor from the coffee and result in colder cups.
Now not only do you need an optimum heating mechanism, but an efficient one too. So ensure that the device of your choice adopts a superb heating mechanism that gets the job done just right, just on time!
Steam Wand
When on the hunt for purchasing the perfect steam espresso maker, the steam want/nozzle is a factor not to miss out on.
These wands are responsible for creating the most divine milk foams by frothing up milk at just the ideal temperature. They thus enable you to produce the most irresistible and versatile coffee fit for a king!
If your budget allows, look for a model that comes with an improved steam wand. Fancy options include nozzles that swivel for flexibility, some that can froth up all types of milk, etc. You'd also find advanced models that enable you to regulate the foam temperature, milk volume etc., thus ensuring a luxury experience.
Device And Pump Pressure Capacity
Opt for a device that requires you to refill as less frequently as possible for maximum convenience. But don't let too large a capacity take a toll on your affordability.
For producing the truest espressos with lusciously rich crema, you need to focus on the bars of pressure of your chosen device. But it's not as simple as "the higher the better".
You see, in order to obtain the most optimally extracted shot of espresso, the industrial standard is around 9 bars of pump pressure. But most models you'd find start from a 15-bar capacity to up to a stunning 20 bars!
15 bars of pressure will fully extract every last bit of flavor from your coffee grounds for the ultimate espressos. Higher bars of pressure don't make any significant difference as all of the flavors will already be extracted before reaching the maximum pressure capacity.
But some debate that higher capacity models perform better in the extraction process, thus providing fully loaded flavors consistently like a boss!
Construction Material
The best steam espresso machines must be composed of highly durable material to last for years without messing up.
Plastic models are more affordable and lightweight and can come in attractive colors to glam up your kitchen.
But nothing beats stainless steel composition when it comes to both its aesthetically pleasing and sleek appearance and durability. So choose what you're comfortable with, or a combo of both according to your budget.
Conclusion
The perfect cup of coffee, when made right, has the power to lift up even the gloomiest of moods and rejuvenate the most tired bodies.
Hence, in order to aid in making the most irresistible cups of bliss every time on your own even at home, the best steam espresso machine sure is a true savior worth investing in.
Jen Lin-Liu is the founder of Black Sesame Kitchen. A Chinese-American writer and a nationally certified Chinese chef in Beijing. Jen is the author of two memoirs, Serve the People: A Stir-Fried Journey Through China and On the Noodle Road: From Beijing to Rome with Love and Pasta.